Le Semi-Marathon de Paris 2016 – fundraising for War Child
One of our sporty Senior Consultants Tom 'Turbo' Le is running the Paris half marathon on 6th March 2016 in aid of War Child, Fitzrovia IT's chosen charity of the year.
War Child are an international charity who believe in a world in which children's lives are no longer torn apart by war. They work in some of the world's most volatile areas including Afghanistan, Central African Republic, Democratic Republic of Congo, Jordan, Iraq, Yemen and Uganda helping the most vulnerable children who are too often forgotten during and in the aftermath of conflict. Their approach is that children have immediate needs but they also have rights including the right to an education and the right to live free from violence. They work tirelessly to protect children living in the world's most dangerous war zones, by providing safety, education and opportunities for children to build a better future for themselves and their communities.
As Fitzrovia IT's chosen charity, War Child will receive sponsorship and support throughout the year from a number of sporting efforts by our energetic employees!
For Le Semi-Marathon de Paris 2016 we have had this wonderful shirt made up for Tom to run in and have been busy fundraising and donating to his Just Giving page.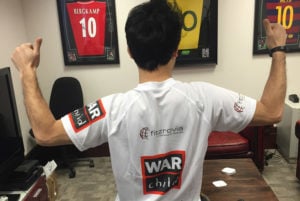 If you'd like to support Tom and War Child please click here to visit Tom's Just Giving page and make a donation.
If you'd like to learn more about War Child and all the great work they are doing please click here to visit their website.