BT Tower shows record drops in CO2 emissions
Lockdown has been difficult for many, but as we slowly return to a new normal, the landmark communications tower in Fitzrovia has reported some good news for the environment.
The BT Tower, a landmark many of us at Fitzrovia IT are used to seeing, has recently reported record drops in CO2 and Methane emissions above London's skyline.
Atop the 190m tall tower, the atmospheric observatory measures change in greenhouse gas emissions across London. Earlier in May, it was revealed that the city had seen an almost 60% reduction in daytime carbon dioxide emissions since lockdown measures were introduced. The data obtained from atop the BT tower shows that since lockdown, emissions between noon and 6pm have reported being down by 59% on average compared with previous years averages for this time of year. Likewise, TFL has reported similar reductions in traffic flow through central London.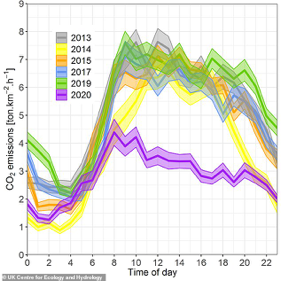 Pictured above CO2 emissions from central London since lockdown (purple) compared with the same time of year in previous years.
While unique in the UK, this measurement of emissions is replicated in several international cities which each show a consistent reduction in urban CO2 emissions.
The data recorded at the BT tower is set to paint an insightful picture as the country gradually eases lockdown measures and returns to a "new normal." Interestingly, future data may provide relevant insight into the changes in attitudes toward traditionally environmentally friendly public transport and social distancing. As many begin to opt for private vehicle usage, cycling and walking in favour of public transport options.
While lockdown may have had its challenges, it's great to see a landmark so near to Fitzrovia IT recording some feel good data.