2016 Fitzrovia IT 5-a-side Tournament!
Last Friday, we hosted our 2016 Fitzrovia IT 5-a-side Football Tournament at PowerLeague in Shoreditch!
10 teams went head to head to battle it out to be named 2016 Fitzrovia IT 5-a-side Football Tournament Winners!
The round robin stages set apart the pros from the not so pros, then the top teams went on to compete for the Tournament Title while the remaining went into a plate tournament and there was even a wooden spoon title up for grabs!
We had tournament t-shirts made up for both the Fitzrovia Eagles and the Fitzrovia Sparrows, see the boys proudly wearing them before kick off!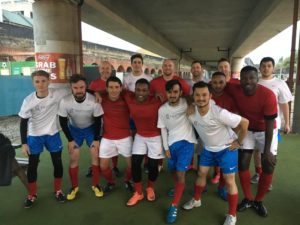 The battle was fierce with some great competition, but there could only be one winner…. In this case (and rather embarrassingly) Fitzrovia Eagles took home the trophy!
Following the tournament, there were presentations and finally a well-earned BBQ and alcoholic refreshments!
There was a great atmosphere and great effort from everyone who was able to take part. We certainly enjoyed ourselves and hope that everyone else did to!
Here's to many more!