Fitzrovia IT Academy apprentice wins Apprentice of the Year award
Tom Murray, first year apprentice in The Fitzrovia IT Academy, has been named Apprentice of the Year in the 2019 Just IT Awards.
Judges praised Tom's work ethic, tenacity and ability to challenge himself to take on increasingly difficult tasks in the record-setting awards ceremony. This year's Just IT Awards saw more entrants than ever before from a variety of companies, including Google, Sainsbury's, Bank of England, Warner Music Group, Module Media, and Pensar Systems.
"Each year we are impressed with the quality of apprentices we take on as part of The Fitzrovia IT Academy," said Dan Stanbury, Director of Fitzrovia IT. "Tom proves time and time again his maturity, dependability, and ability to work hard and stay calm under pressure. When the chips are stacked against Tom, he always delivers – an honourable quality in such a hectic working environment. We are proud to have him recognised as Apprentice of the Year."
"This is an excellent way to continue celebrating Fitzrovia IT's 20th anniversary," he added.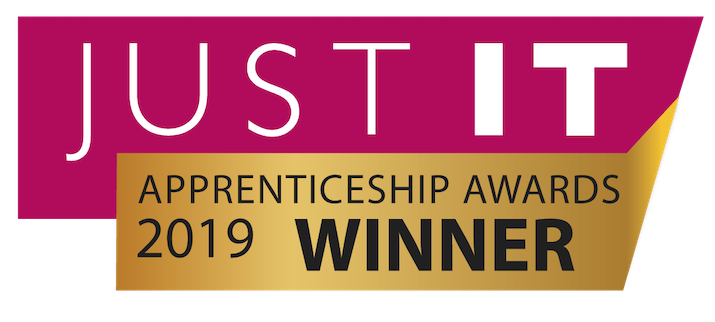 Simon Perriton, Founder and CEO of Just IT said in a statement: "Apprentices are becoming the preferred route for young people into IT and digital careers and an excellent way for employers to upskilll their employees."
Guest speakers for this year's event included:
Simon Perriton, Founder and CEO of Just IT
Tony PItchford, Key Accounts Manager at BCS
Joshua Uwadiae, Owner of WeGym
Graham Hunter, VP President Skills Certification EMEA at CompTIA
Anthony Impey, Owner/Founder of Optimity
Event sponsors included CompTIA, City & Guilds, Ambitious About Autism, and BCS, The Chartered Institute for IT.
The Just IT Awards are designed to acknowledge the achievements of apprentices within the IT and digital sectors. Held on 7 March this year at the BCS Building, the awards saw more entrants and nominees than ever before.
Fitzrovia IT also took home the Employer of the Year award.
About The Fitzrovia IT Academy
The Fitzrovia IT Academy is a structured, three-year apprenticeship programme that builds the foundation for a thriving career in IT. Since 2012, the training scheme has combined industry-leading technical training with practical hands-on experience, allowing apprentices to gain a comprehensive introduction to the MSP environment.
Apprentices provide first-line support to over 5000 end users while working alongside a young, dynamic team in the heart of West London.
Interested in jumpstarting your career? Read more about The Fitzrovia IT Academy and register your interest for the programme. Applications open in May.