Enjoy the Christmas Festiv-IT-ies!
It's been looking a lot like Christmas in the Fitzrovia IT office for most of December!
We've had Christmas treats, trees, jumpers and a Christmas party!
Santa and one of his elves came in to deliver and decorate our Christmas tree which provided some entertainment and made us all feel very festive! There are even presents! (Sadly, after shaking the boxes, I established they are just for show) However, we celebrated the arrival of the tree anyway with some reindeer cakes and mince pies!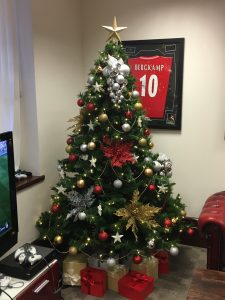 Last year, we didn't really know much about the 'official' Christmas jumper day so we didn't take part but this year, we were prepared! We donned our jumpers to raise money for Fight for Life, the childrens cancer fund which is part of the University College Hospital near our office. We had a mixture of sensible jumpers and more outrageous ones, one even had a flashing Christmas Tree!
For our Christmas party last year, we joined lots of other companies for a big corporate party but this year we wanted to celebrate just our team together. We've grown a lot since last year so it was really nice to be able to get everyone together, old and new to get into the spirit of things.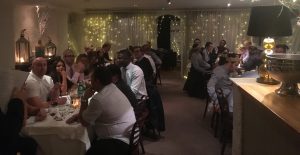 We went down to Pescatori on Charlotte Street where the private dining room downstairs had been beautifully decorated for us. We were treated to lots of delicious food and had a jolly good time. We held a festive themed Quiz between our main course and dessert which resulted in a few inflated score cards and heated discussions around answers! All in all, a great evening with our team and the wonderful staff at Pescatori made the evening really special – I would definitely recommend it!
So with only a few days to go until the big day, all thats left to do is wish you a Merry Christmas and a Happy New Year from all at Fitzrovia IT!
x