Fitzrovia IT at the 2016 PowerWave Games!
So far this year, our team at Fitzrovia IT have conquered a number of sporting efforts including the Semi Marathon de Paris, a 100 mile bike ride and now the 2016 PowerWave Games!
One of the newest members to the Fitzrovia IT family, Paul Smith, has already jumped on the sporty bandwagon we've got going here by bravely entering the 2016 PowerWave Games! Along with some friends/fellow training buddies, he made up one sixth of Team Jemonade!
Competing in London's Leicester Square on Sunday 26th June, Paul and Team Jemonade pushed, pulled, lifted and lowered weights throughout a variety of tough exercises completing nearly 2,000 reps between them!
While we couldn't support them physically (anything heavier than a bag of flour is a little too much for me, especially on a Sunday!) we were still there offering our best cheers and spurring them on! We even had some fancy Fitzrovia I.T. t-shirts specially made for them to show our support! Nothing like some good old fashioned team spirit!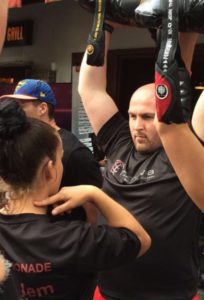 (Paul making it look far too easy!)
Thankfully the rain held off for them and the team came away from the 2016 PowerWave Games very pleased with their Top 10 finish, and looking forward to improving on it again next year!
Hosted by Chiquito, all proceeds of the 2016 PowerWave Games were donated to their charity partner, Children with Cancer UK. So not only did Team Jemonade do everyone proud by working up a great team sweat, they also helped a very worthy cause at the same time. Well done Team Jemonade!
We've got more Fitzrovia I.T. team members embarking on all sorts of challenges over the coming months including another half marathon in aid of our 2016 chosen charity War Child, and a 5 a side football tournament, so we'll be sure to keep you posted on what we get up to and how we get on!