Essential Windows 10 Updates and Patches
Since the free upgrade to Windows 10, many of you will now find yourselves wondering why you are being forced to restart your PC to perform patch updates all the time.
It might even be that your business used to make you leave your PC running overnight to accommodate patch updates, but these no longer seem to have any effect.
With Windows 10, Microsoft has taken a much firmer stance on security. There are now far more security features built-in to Windows 10 than there have ever been in a Microsoft operating system (more in a coming blog post).
Windows will now download and install patches in the background and then prompt to do a restart when the PC is idle. This is so that Microsoft can ensure that PC's aren't left unpatched and vulnerable to hacks and exploits – protecting you and your company data. It was often the case that end-users would postpone the update process to a time that was less busy – a time that most of us know never comes!
But no one really wants to an impromptu restart at 9am with a deadline looming, just because you stepped away from your PC.
So here are some areas you can customise to minimise the impact on your working day:
Amending restart time
If you know a restart is coming, you can go into settings and change this restart time in Settings -> Updates and Security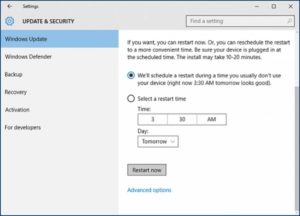 Active Hours
Another area you can look at changing in Settings ->Updates and Security is Change Active Hours.
Here, you can specify a time window that restarts should try to avoid. It may be that something has caused this to go out of line with your normal working hours, so you can amend it here at any time.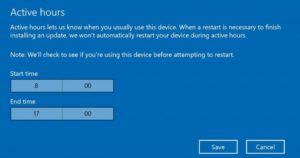 Update and Shutdown
One thing that will catch you out – mostly when you are shutting your laptop down to go running for a train – is updates that run on shutdown. One of the problems we encounter on our service desk is the PC or laptop has been turned off before these updates have been able to complete. Therefore, your PC or laptop will likely do further updates when you next turn the PC back on! So remember that if your PC did updates while shutting down last night, you will need to allow some extra time in the morning before your PC is going to be ready to use.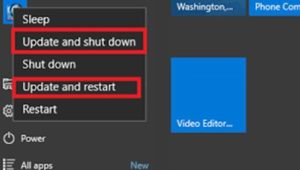 Peer to Peer update sharing
There is also a feature in Windows 10 that allows it to use other peoples downloaded patches to save on internet usage if set correctly. It can be found under Setting s-> Updates and Security -> Advanced Options and then Choose how updates are delivered. For normal office environments, PC's on my local network might be the better choice.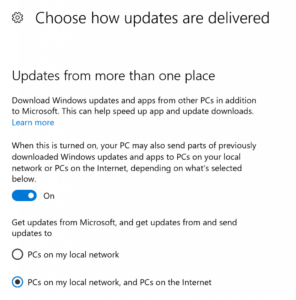 For any other questions or queries, call us on 0203 727 6021 and we'd be happy to help!