Tech takes centre stage in connecting the world
Downstream broadband traffic increased by 90% and upstream traffic more than doubled since the lockdown says Virgin Media.
---
While people across the globe grapple with some of the biggest changes to daily life in a bid to mitigate the effects of coronavirus, technology has taken a front-row seat in connecting families, friends and colleagues throughout the world. In today's blog post, we'll cover some of the best examples of how tech is easing social distancing strains.
By now, there's no denying the importance of the social distancing measures introduced by governments across many countries – but as we all know there's no denying the role that human contact plays throughout our daily lives. With a nation restricted, for the most part, to the confines of their own home – technology has spearheaded an innovative approach to bringing communities closer together. From the rise of video conferencing to the explosion of social platforms, such as Tik Tok, technology has taken centre stage like never before. With screen time reportedly doubling since the UK coronavirus lockdown, below are some of Fitzrovia IT's favourite examples of tech connecting a disconnected world.
Connecting communities
While we've all taken advantage of the benefits technology can bring to a modern family, the current pandemic has pushed family connectivity to all new heights. Families around the globe have begun celebrating birthdays, anniversaries and key milestones by connecting households through video chat.
Elsewhere in the world, groups of friends are trading Friday afternoon drinks at the local pub for cocktail hour on Zoom. With groups of more than 20 friends joining each other to share a virtual cocktail.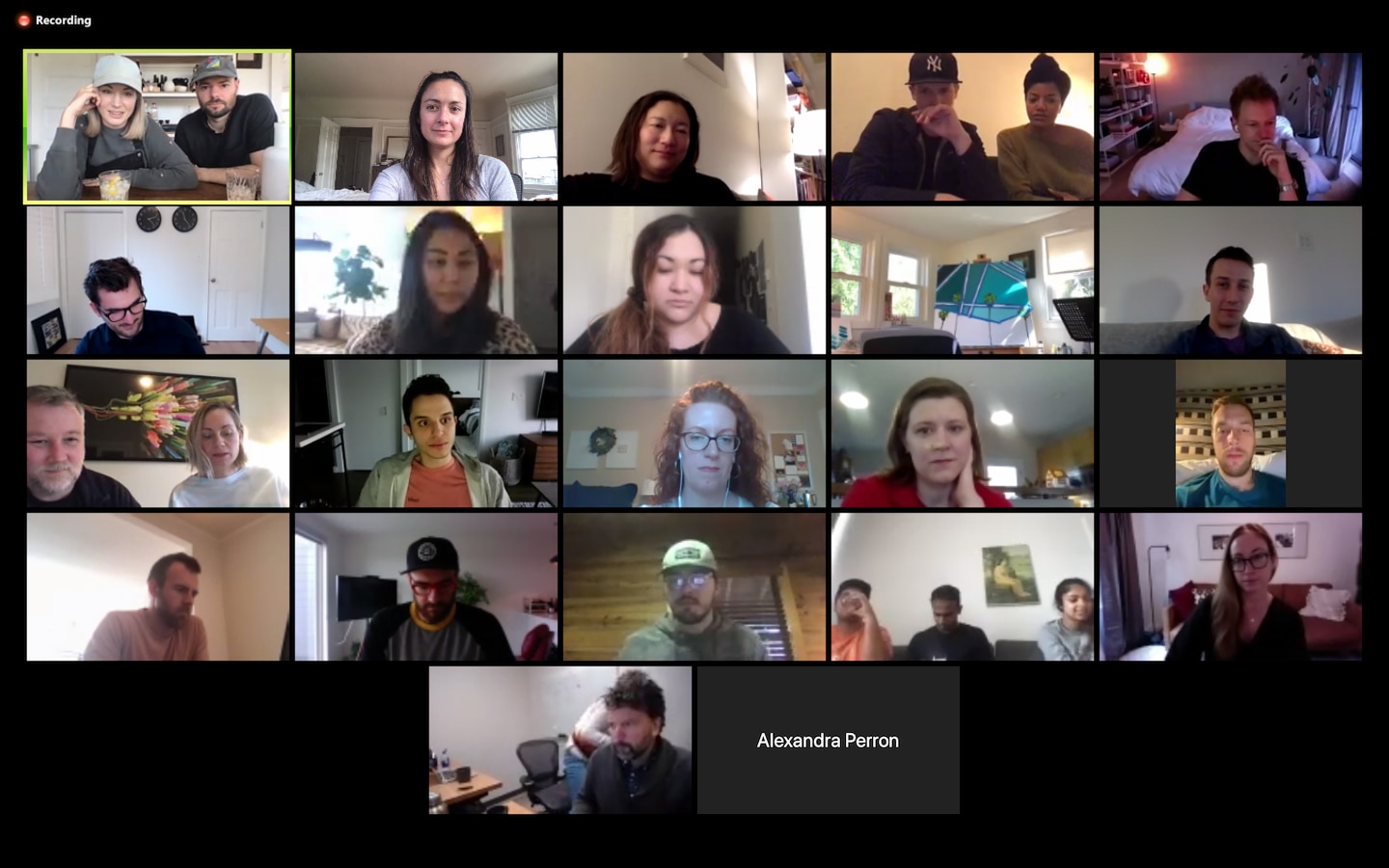 "This round's on us", friends share a drink on Zoom Source: Washington Post
---
Social Media
Elsewhere online, social media platforms are seeing surges in the average time spent by users. Emerging leader of the pack, Tik Tok has taken the online world by storm, with thousands of new users flocking to the platform to unleash their full creative potential.
NHS nurses release energetic dance video amid coronavirus battle. Source: Evening Standard
But it's not only Tik Tok getting all of the attention, all platforms have seen a number of great initiatives uniting individuals across the world. With a film club started by UK actor Brett Goldstein, a solo festival dubbed Big Kitchen Disco and no shortage of online challenges – users are finding new ways to get their social fix.
Online Shopping
With the government-imposed restrictions on movement, hundreds have turned to online shopping as a pass time and to get prepared for life indoors. Ecommerce sites around the world have experienced strong results since the acceleration of the coronavirus pandemic – with online retailers, grocery stores and tech suppliers struggling to keep up with customer demand.
Traffic to online supermarkets has increased by a reported 161% since February 16, while surprisingly, transactions have fallen by a reported 15% – as wait times, delivery slots and availability of products has resulted in a higher number of abandoned shopping carts. Online technology and hardware suppliers have recorded a 20% increase in traffic, with a 30% increase in transactions as customers rush to set up to work from home and e-learning facilities. [Source: Content Square]
Working From Home
With countless businesses forced to roll out a working from home setup across the majority of their teams, a variety of hardware must-haves and software lifesavers have emerged from the pack. Having assisted a great number of businesses in everything from office relocations through to preparing for a move to at home set ups, we've uncovered some essential pieces of tech that unlock your full working from home potential.
Top of the list is an ergonomic setup. While it might be easily overlooked – a keyboard, mouse and external display go a long way in boosting productivity and ensuring your team is comfortable after extended periods working from home. And to get a truly stand-out home setup, consider adding to your basket; noise-cancelling headphones that allow for multiple connections and a display mounted webcam to reduce the strain on your neck.
While important, your hardware is only half of the equation, to truly get the most from working from home – it's all about the applications that can get you reaching maximum efficiency. Office 365 and MS teams are proving a fundamental tool for collaborative working. Allowing the easy sharing of documents and minimising the setbacks of onsite networks. Furthermore, apps such as Adobe Scan and Abbyy FineScanner ensure you're never without an ability to capture and save important documents. While productivity apps such as Trello, keep you on track to meet that big deadline.
Big business contribution
Last but not least, a number of big businesses across various industries are digging deep and providing relief to individuals and small businesses struggling during the economic uncertainty.
A number of US tech firms are also stepping up their contributions to relief funds, with Microsoft, Amazon and Starbucks launching a regional response fund for small business – furthermore, Facebook has announced a $20 million donation to relief efforts, and Apple committing a similar $15 million contribution. Tech giant, Facebook has also announced the release of USD$100 million of ad credits and grants to 30,000 small businesses across 30 countries.
Meanwhile, software company Adobe announced free use of its creative products for freelancers in a bid to reduce the financial strain during these times of uncertainty, free use of the platform has also been made available to students to assist in at-home learning.
---
With a world living in unprecedented times and uncertainty remaining at an all-time high, the tech industry has helped countless individuals around the world in navigating the coronavirus outbreak and subsequent lockdowns. As news cycles remain focused on the gravity of the COVID-19 situation, we find the emerging creativity and innovation a welcome relief.