Shes One Tough Mudder!
Here at Fitzrovia, we are real people, building real relationships with not only our clients, but also with our fellow team members who make the magic happen for you behind the scenes.
We're a busy bunch even when we leave the office, with quite a few of the team signing themselves up for a variety of sporting events and even raising money for charity.
Our lovely Emma is the perfect example of this – she completed a number of sponsored charity events last year including the London to Brighton Cycle, the JP Morgan Corporate Challenge and she even ran up the BT Tower! Emma has made a huge effort raising money for Arthritis Care and Great Ormond Street Hospital.
However, at the end of April, Emma embarked on her 'toughest' challenge yet – the Tough Mudder London West.
The course saw Emma and her friend Emma (Team Name: Em&Em, we like what they did there!) complete not only a 5 mile run, but a 5 mile run across farmland, through forests and up and down some pretty steep hills! Oh and not to mention the 13 obstacles they had to confront along the way! With names like 'Everest' and 'the blockness monster' you can tell they were built for the army. Team Em&Em said that 'the blockness monster' was as tricky to tackle as it is to spot Nessy herself! At 5ft 7, clambering over 3 revolving plastic logs in waist deep ice water was quite a task!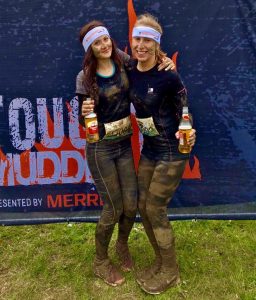 Team Em&Em, completed the challenge in just 1 hour and 26 minutes, very impressive considering the average is 2 hours!
Emma declared quite rightly that of all the events she's conquered, "the Tough Mudder was by far the toughest and muddiest of them all… no pun intended!"
We think she deserves a huge round of applause and we're already looking forward to finding out what she's planning on doing next!