Microsoft Announce Exciting New Features Aimed at the Remote Workforce
In the last few weeks, Microsoft has announced a suite of new features at its 2020 Ignite Conference. The announcements, aimed at the rapidly changing state of business while Working From Home, bring with them a range of productivity, usability and wellbeing improvements.
Here are some of the announcements that we're sure you'll be excited for:
New Teams features
Recording and transcribing meetings
A feature that is sure to streamline many meetings, Microsoft announced Meeting Recaps, a feature built into the Teams meeting interface that will hold recordings, transcripts, chats and copies of shared files of both group meetings and 1:1 meetings.
The recaps will be automatically generated and made available in both Teams and Outlook shortly after the conclusion. Leaving participants to focus on the meeting at hand instead of recording notes.
Custom meeting layouts and Together Mode
At the keynote, Microsoft also announced plans to add a "Together Mode" functionality within Teams – whereby users are placed in a virtual room, such as a café or auditorium, to give a sense of being in the same room together.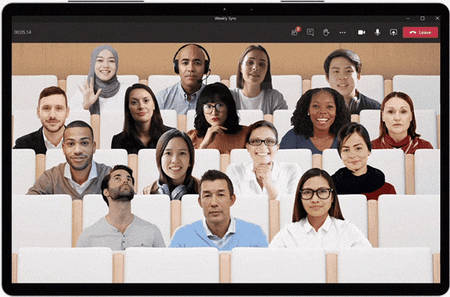 Together with the announcement, Microsoft also announced a feature that uses an AI-powered green screen to allow users to embed themselves into a presentation, similar to a weather report.
Increased Capacities
At present, Microsoft Teams has a limit of 10,000 view only participants and 250 active participants, but after the announcement late last week, users can soon look forward to significantly increased capacities – with new limits of 20,000 view only participants and 1,000 active participants. What's more, users will now be able to see as many as 49 participants at any one time during a meeting, that's more than 5 times current viewing abilities.
Breakout rooms and virtual places to gather
After almost 2 years of waiting, and 17,500 requests – Microsoft has finally developed a breakout room functionality. The added functionality has proved popular amongst users of Zoom and Cisco collaboration tools and will soon be available on MS Teams.
As the name suggests, the Breakout feature will now allow users to gather into small group discussions before returning to the larger conference. As more companies turn to virtual meetings, this feature, launching before the end of the year, will be a welcome addition for many users.
Intranet Features
Intranet within Teams
An exciting new feature that will create a seamless experience for users around the world, is the new Home Site app for Teams. The app will bring SharePoint intranets directly into the Teams user interface, allowing users to access and engage with content on a company-wide or department-only level from within the communications hub.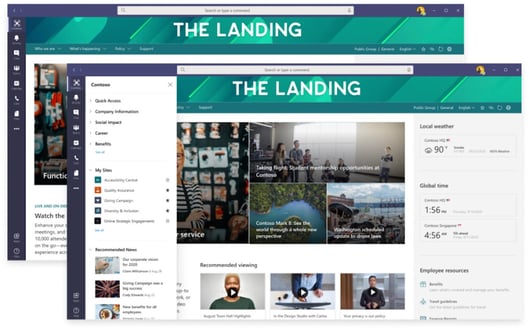 Improvements to company news
With the ever-growing importance of intercompany communication in remote workforces, Microsoft has announced plans to release a suite of new News features designed to keep employees in the loop.
From Auto-news Digest – an automatically generated email to employees highlighting articles they have not yet read, through to an ability to boost important news articles in users news feeds – internal communication functionality has been improved to help the changing needs of companies.
Increased opportunities for branding
In a bid to foster more internal culture, Microsoft has added increased branding opportunities for designs in SharePoint, the changes to branding within SharePoint are expected by the end of 2020.
Wellbeing features
New Virtual Commute app
Last but not least, Microsoft announced a new app called Virtual Commute – built in partnership with Headspace and expected to launch next year. While many have enjoyed the time and money saved without the daily commute, many report a distinct lack of routine and ability to prepare for the day and switch off in evenings. The new app has been designed to let users schedule virtual commutes that prompt and guide users through setting goals in the morning and reflecting on the day in the evening.
While not intended to replicate busy tube journeys or gridlocked traffic, the new Virtual Commute app is designed to cater to growing concerns that many businesses are now facing, in the way of improving the long-term sustainability of remote working. The new app will make well-being a priority for workers by aiding users to define a start and end to their day.
While the virtual commute is still in development, there are a number of ways to help improve the sustainability of remote working, take a look at our tips to survive working from home)
---
Among the many emerging virtual conferences, Microsoft's recent Ignite Conference was focused on improving the sustainability and productivity of the rapidly changing business landscape. The Head of Office 365 at Fitzrovia IT, Ben Ward, believes the 2020 Ignite Conference is a signal that digital transformation does not end here. "Business and IT leaders are now faced with the next challenge, business transformation. Microsoft's insights and analysis show us that productivity can be further enhanced when businesses invest their employee's digital experiences. A great example of this is seen in the upcoming wellbeing features in Microsoft Teams. The new virtual commute app reminds us all that in this remote world, we all need time to reflect, in preparation for the next day ahead."
We'll keep you updated as these features begin to rollout but for more information on these and other future announcements, check out our blog.